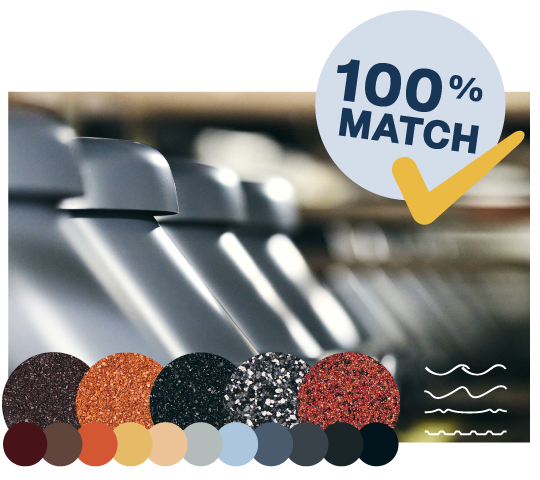 100% match
CUSTOMIZED Roofing accessories matching the roof in colour, material, surface, and profile
Our roofing accessories can be matched 100% to your roof material in profile, colour and surface. With 100% match the product becomes an integrated part of the roof and presents a final solution that completes the roof aesthetically.
When you see the 100% match label, it means:
The colour of the product is matched from the customer's roof material to get the right shade
The surface is created with sand, granules, lacquer or spray with multiple colours, to match the look of the original roof material.
Each profile is matched with a unique mould for the individual roof profile
100% MATCH IN COLOUR, PROFILE AND SURFACE
The majority of our product come as 100% matched produkts. This means we can manufacture roofing accessories to be completely integrated in the roof surface in colour, surface and profile.